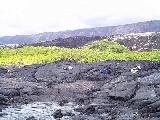 Pali View from Ka'aha
As you finally gain your reward and make your assault on the beach, you realize that the greenery that you assumed was grass from your far off reckoning, turns out to be rather a network of succulent vines encircling the area, and except for the man made path, cutting off your retreat.
As you expect though the little bay is nicely protected, sandy bottomed, and has many lagoons, inlets, and arms anxious to be explored. Alas, I can not name anything since there were a few other campers here before I arrived, but I shall long treasure these pictures as the reward for my great march this day.