Although this Mexican destination has been made famous by the the movie, "Night of the Iguana," it still maintains most of its charm due to the fact that most tourists are attracted to the lights and speed of Cancun, Mazatlan, and Acapulco. Still there are many hotels and restaurants to choose from as well as true Mexican night life. The combination makes for a great (affordable) adventure.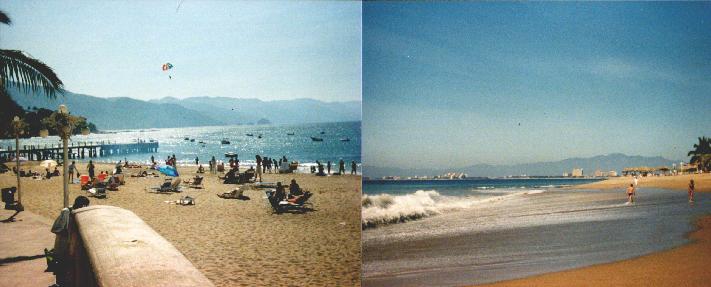 Well I guess most everyone thinks of beach when they think of Puerta Villarta. So here it is. There really is so much of it that it really never seems to be crowded. If you want to visit with people, they all seem to congregate on the south stretch of sand where the mountain comes down to meet the sea and narrow the sand to a cozier area (left). Can you see the three famous rocks in the sea? If you look north (right), you get a much better idea of the expanse. The expensive resorts are farther up the beach in this direction. Needless to say I prefer the more personal and charming part of the old city here.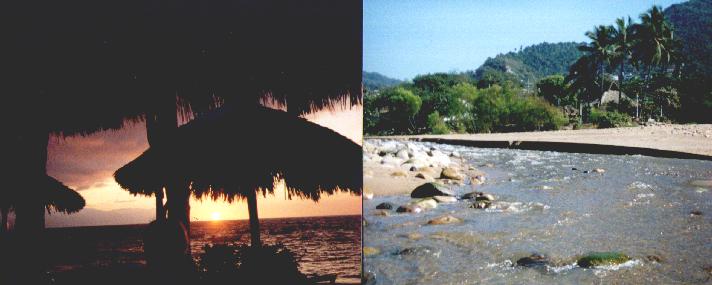 When I am at a sunset beach in Mexico, I always make it a point watch the sunset (usually with marguerita in hand). PV is a great place for this - just mosey on down to the beach and seat yourself at a table with a view and discover why you came all this distance to be here. On the right is the river just before it touches the sea. The river is the main landmark that divides the city north and south. There is a nice walking area (down) along the river where you can also find some unique Mexican artsy shops. You can see the burros which abound and will take you on a day trip up into the mountains for a small price.