The city and lake of Patzcuaro are about 200 miles due west of Mexico City. When you get there you find this neat lake in the clouds. There are plenty of accomodations in the city where my favorite attraction was watching the nightly eating and socializing at the sidewalk/curbside picnic bench restaurants. The lake is not littered with houseboats as it would be in the USA so it remains a nice place to relax for a truly enjoyable tourist experience.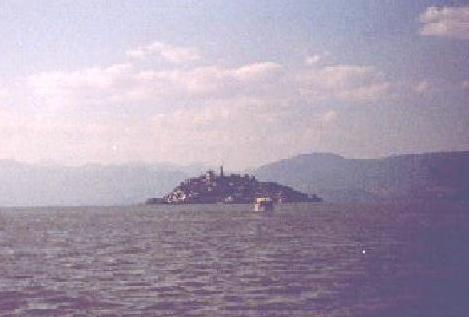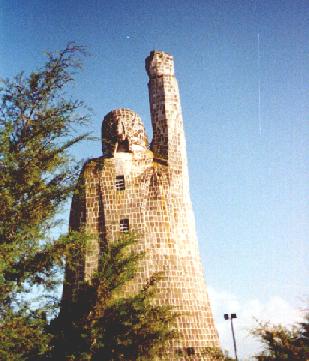 From the modernized marina near the city of Patzcuaro you can hop on one of these launchas leaving regularly for the island of Janitzio. Once you get to the island you have a steep and circular cobbled path up to the top where you can keep right on climbing up the statue of Morelos. My dad (age 72) surprised me by making it to the top of the hill, and climbed most of the way up the inside of the statue to see the murals. I climbed up the arm for photos. Whatever you do, don't give a centavo to the begger children when you get off the boat. My dad did and they hounded him unmercifully thereafter. I think that's why he climbed so far. On the cobbled path you will find lots of arts and craft places which are interesting and nice to look at. Also there is the obligatory basketball court part way up the hill where you can watch the kids play as you eat a tortilla.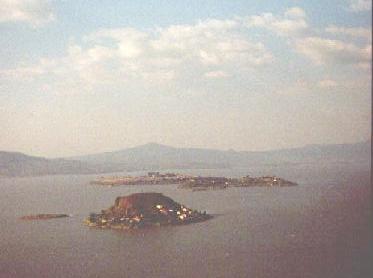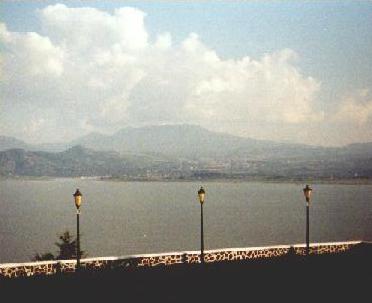 From the top of the arm you get a nice picture of some other islands to the east evidently owned by some pretty wealthy people. The second shot shows the wall of the park around the statue. You get a little bit of the feeling here that you are in a surreal setting of a lake in the clouds that sets you free to travel back to a romantic time.